cám ơn bạn đã tìm hiểu phần mềm allplan
Chúng tôi muốn gặp bạn và cung cấp giải pháp BIM phù hợp nhất
Allplan is a BIM platform used across the world inspiring architecture and innovative engineering capabilities. We understand that our customers are faced with different challenges, this is why we incorporate all of our industry expertise and experience to support you. The perfect combination of software and service enables architects and planners, engineers and facility managers to manage their daily tasks more efficiently and productively.
So focus on what's important: your ideas, your plans, your projects. Everything else is work:
Welcome to the world of Allplan service.
The international Allplan Connect service portal provides direct access to the global Allplan community and bundles attractive services for simplification to your day-to-day planning.
Productive Plan Management
With the electronic plan management, all plans created in CAD systems can be quickly and easily exported, archived and sent to other project participants via the Allplan Exchange online platform.
Extra Performance and Service
As a complete package of closely interlinked software services, Allplan Serviceplus provides you with regular and comprehensive CAD software updates, as well as technical support directly from the manufacturer, including access to the Allplan Connect Service Portal. And you get all of this at minimal projectable costs.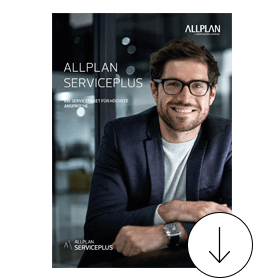 » I think the biggest advantage of Serviceplus is the direct contact with ALLPLAN. We can clarify our issues at any time and directly. It doesn't matter if it's a simple question relating to operation or a complex task such as area calculation. « 
Andreas Baum, architect and managing partner at baum-kappler architekten
Allplan Connect is the high-performance community for Allplan users.
For interdisciplinary cooperation
It is not only large international projects that are characterized by the close cooperation of all disciplines participating in the construction. The entire specialist community relies on more cooperation. Here Allplan Connect creates completely new opportunities for architects, engineers and facility managers.
Form networks more successfully: Start with Allplan Connect right away!
Nhận 30 ngày sử dụng miễn phí
Giải pháp BIM toàn diện cho Kỹ Sư và Kiến Trúc Sư